Welcome to Coach T and Coach Anna's public speaking course! Are you ready to take on any public speaking challenge with ease? Then you've come to the right place! With their professional coaching guiding you every step of the way, personalized feedback and support, so you will have all the tools necessary to become a confident, effective public speaker. Sign up today and get ready to tackle any public speaking challenge head-on!
Have you always wanted to conquer your fear of speaking in front of an audience? Don't worry, many of us have been there before. This course is about how to overcome those fears and become more confident in front of an audience. We'll discuss strategies for building your self-esteem and how to practice the art of public speaking. We want to help you gain confidence so you can make powerful presentations and speak up in any situation. With dedication and practice, you can make great strides in your public speaking journey.
Embrace Your Fear of Public Speaking- And Gain the Power of Being an Introverted or Extroverted Speaker is here to help! This course is designed for those who want to gain the confidence, eloquence, and persuasion needed for powerful public speaking. You will learn how to craft engaging stories, develop a strong stage presence, and captivate any type of audience.
Course Overview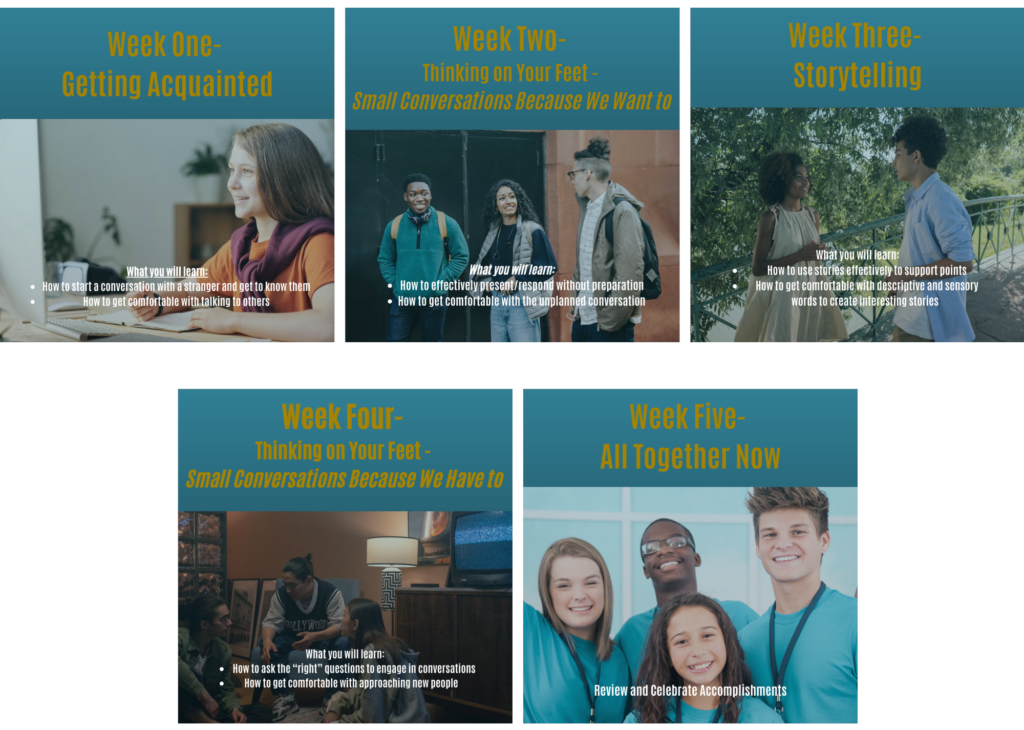 Course Q&A
Q- What is the time commitment?
A- The average commitment is 30-45 minutes a week. However, it is up to you.
Q- Can I pick a session I want to work on, or do I go in order?
A- Please follow the order of the sessions. The course is designed to build skills and increase confidence gradually.
Q- Do I have to speak in a live group session?
A- Participation is highly encouraged and will affect the outcome, but not mandated.
Live sessions will provide a supportive and friendly environment for students to open up and feel comfortable speaking.

Q- Where is the location?
A- We will learn on Zoom.
Q- When do classes start?
A- Add the start date once we have it.
Q- Can I start anytime?
A- The course is designed to provide a community environment. We will start together and grow together. For your convenience, we will have two sessions for you to choose from to start.
Q- What happens if I miss a live group session? 
A- Please communicate with your partner and arrange the time to catch up/make up the missed session.